Description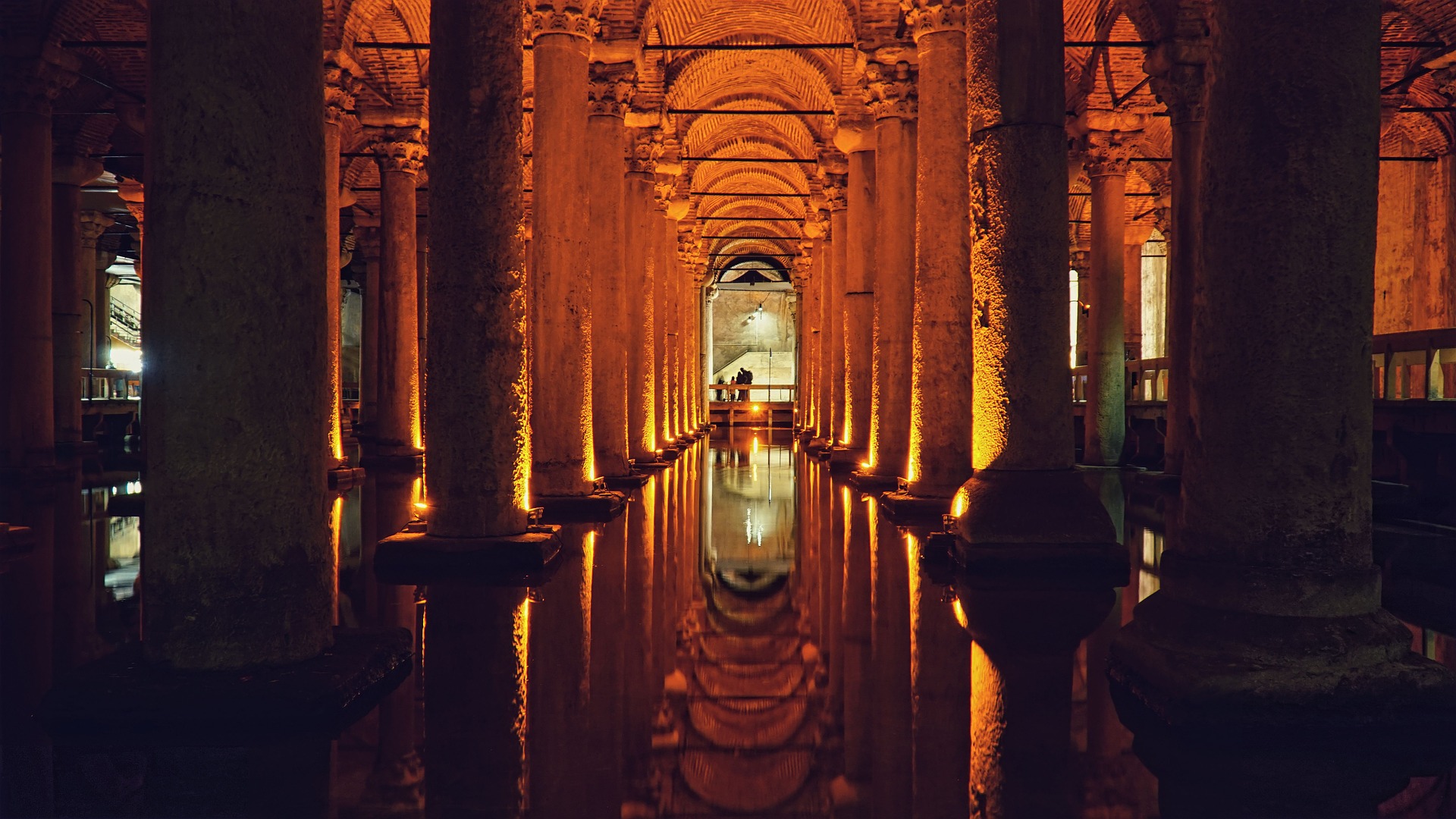 Cistern Tours in Istanbul
A Cistern is an ancient architectural enclave that houses water for the purpose of 'plumbing' and basically as a reservoir, though they are often reinterpreted later without water for functions other than they were originally intended, from housing soldiers during a war to being remodeled as a department store. They are still made today – usually less aesthetically – by people who live in a wilderness environment that lacks running water. Cisterns are in the same line as aquaducts and can be found, notably, in places like Jerusalem, Istanbul, and Rome. They are physically like medieval sewers, though the water was used for everything involving water in a city. There are at least 24 cisterns that you may see.
The Basilica Cistern, also called the Yerebatan Sarayı or Yerebatan Sarnıcı, is the largest of several hundred ancient cisterns that still lie beneath the city of Istanbul, former Constantinople, Turkey.
The cistern, located in the historical peninsula of Istanbul next to the Hagia Sophia, was built during the reign of emperor Justinian I in the 6th century, the age of glory of Eastern Rome, also called the Byzantine Empire.
Cisterns that will be visited during this tour is ;
* Basilica Cistern
*1001 Column Cistern
* Cistern Under Nakkas
* Cistern Under Eminonu Municipality
* Byzantine Aquaduct
* Remains Near Pankrator
* Other important sites on the walking route
Idea : Seeing cisterns that are open to the public and some that are in ruins. You will see Underground Cistern (Yerebatan Sarayi) , Binbirdirek (1001 Stones ), a few newly restorated cisterns in istanbul will be seen during the tour and make a small sight seeing with our staff and get general information about istanbul. This tour runs everyday.
Bazaar Turkey – Les Arts Turcs Art Studio
Alemdar Mh. Incili Cavus St.
No: 19 Floor : 3 (Behind The Underground Cistern)
Sultanahmet 34110
Istanbul, Turkey
Contact : Mr. Alp or Mr. Nurdogan ( Phone : +90 544 220 10 22 )
E-mail : info@bazaarturkey.com
Google Maps : https://goo.gl/maps/uXuyRmELZsx
Half Day Tour Price ( Per Person )
1 – 3 pax : 50 Euro
4 – 6 pax : 45 Euro
7 – more : 25 Euro
Child Supp. Free under the age 6.
Tour Includes.
This tour is private and Half day. Upon request it can convert to a full day tour with additions.
Runs everyday mornings or afternoons.
English Guidance and assistance service.
Transportation during tour is included.
Lunch on Full Day tours. ( optional)
Discount rates for students and groups.
Basilica Cistern Tour " Recommended By Budget Travel "