Description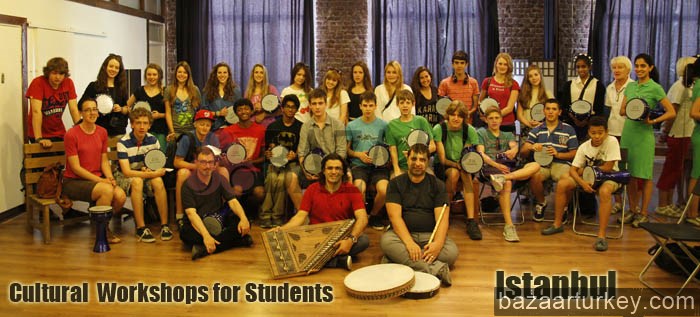 Turkish Musical Instrument Workshops in Istanbul
We as a Les Arts Turc Team offers you a change to learn the basic & advanced levels of Traditional Turkish Music with different Instruments. We have professional teachers and will be happy to teach you the techniques and imporving yourself during your visit in istanbul. They also can help you finding the right instrument for you.
For the music lovers, we can offer teaching lessons for the following Turkish Instruments ;
Ney Lesson
Ud – Oud Lesson
Kanun, Lesson
Saz Lesson
Tambur Lesson
Darbuka Lesson
Bendir – Turkish Drums and Rhythms Lesson
Classical Turkish Kemence Lesson
Rebab Lesson
Turkish Classical, Sufi and Folk Music System Lesson
The lessons are given private or group upon request by our teachers in our art galley and work shop area located in Sultanahmet.
Bazaar Turkey – Les Arts Turcs Art Studio
Alemdar Mh. Incili Cavus St.
No: 19 Floor : 3 (Behind The Underground Cistern)
Sultanahmet 34110
Istanbul, Turkey
Contact : Mr. Alp or Mr. Nurdogan ( Phone : +90 544 220 10 22 )
E-mail : info@bazaarturkey.com
Google Maps : https://goo.gl/maps/uXuyRmELZsx