Henna Art for our guests from Ireland Erasmus Students – Istanbul / January 2016
Traditional Turkish Henna Night
The ceremony held one day before the wedding in the home of bride and groom is called the henna night. It generally takes place at the girl's home and among women, although either side can elect to host it.
Usually dry henna brought by the bridegroom's family is broken to pieces in a silver or copper vessel by a woman whose father and mother alive, not experienced any separation. After preparing the bride, veil ornamented with red flake is placed over her head, and she is brought into the middle with hymn and folk songs about henna.
Henna that has earlier kneaded with water is brought in on a tray surrounded by candles and placed in the middle of the room. In some places, the henna is first put on the hands of the bride and then distributed to the guests; in other areas the henna is first distributed to the guests, and only after everybody has left is it placed on the bride's hands. If the woman so wishes, henna can also be placed on her feet and hair. Considerable attention is paid to charging a woman with a happy marriage, called the "basi bütün" (meaning "whose head is complete", in a sense, this describes her as someone who has a complete family with husband and children and whose marriage is whole, not separated by divorce) to knead and distribute the henna and apply it to the girl's hand. The woman places the henna on one of the bride's hands, and a young girl places it on the other.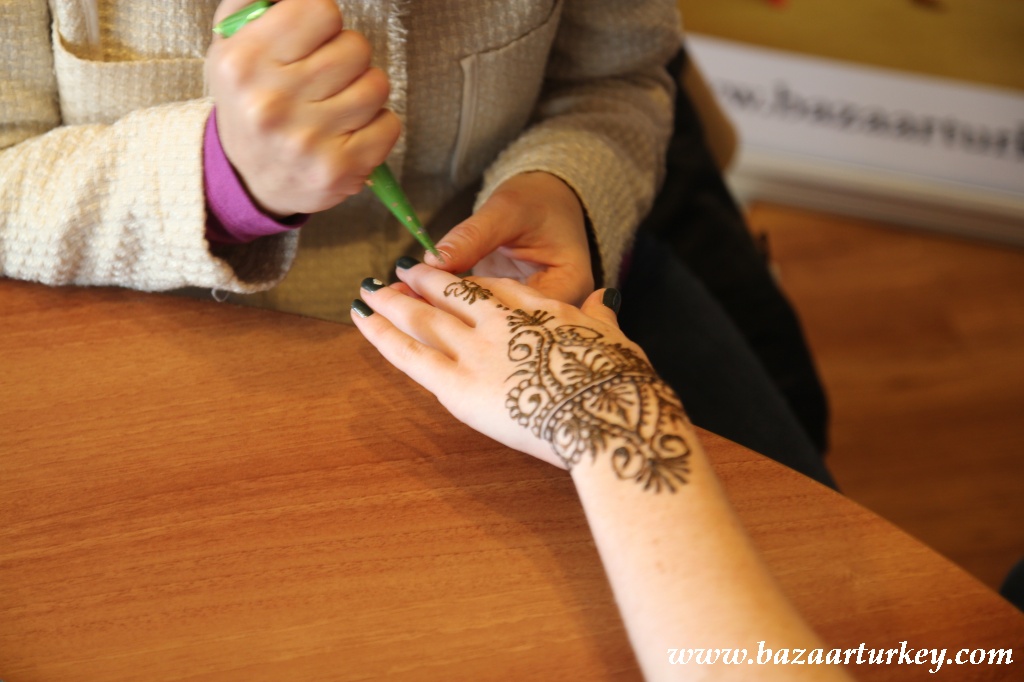 Bazaar Turkey – Les Arts Turcs Art Studio
Alemdar Mh. Incili Cavus St.
No: 19 Floor : 3 (Behind The Underground Cistern)
Sultanahmet 34110
Istanbul, Turkey
Contact : Mr. Alp or Mr. Nurdogan ( Phone : +90 544 220 10 22 )
E-mail : info@bazaarturkey.com
Google Maps : https://goo.gl/maps/uXuyRmELZsx