Description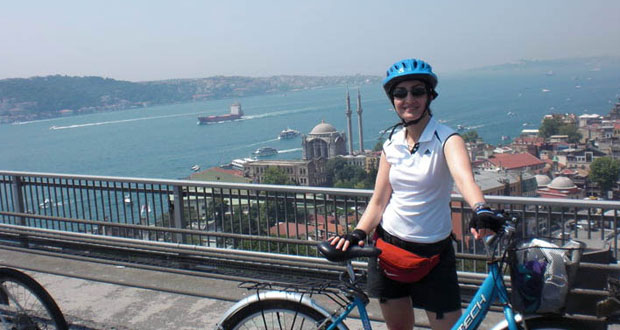 Istanbul Where the continents meet, where the cycles meet ..
Bazaar Turcs Tours are offering you a nice full day bike tours in Istanbul. We organise the tours as private or in small number of groups upon the date & requests. We have flexibility in our tours. If you have any questions; please send us your suggestions by E-Mail.
Here is the programme ;
In the Full Day Programme :
Our starting & Ending point will be Sultanahmet. We will get our bikes and helmets – meet our guide – get general information about the tour and start our journey.
Option I –
Sultanahmet, Ortakoy, Yenikoy, Sarıyer, R. Kavağı,
Lunch in Sariyer
Take a Boat to cross to the Asian Side
A. Kavağı,
Yoros Castle – Panaromic view of Bosphorus & Entrance of Black Sea, Poyrazkoy, Beykoz, Uskudar,
Take a boat to cross back to Europe from Uskudar
End the tour back in Sultanahmet.
Option II –
Full Day tour in the Princess Islands by Boat and Tour in the Island.
Bazaar Turkey – Les Arts Turcs Art Studio
Alemdar Mh. Incili Cavus St.
No: 19 Floor : 3 (Behind The Underground Cistern)
Sultanahmet 34110
Istanbul, Turkey
Contact : Mr. Alp or Mr. Nurdogan ( Phone : +90 544 220 10 22 )
E-mail : info@bazaarturkey.com
Google Maps : https://goo.gl/maps/uXuyRmELZsx
Full Day Bike Tour in Istanbul
Istanbul Bike Tour ( Per Person )
Full Day Tour ( 8 Hours ) : 75 Euro
Tour Includes:
This is a private tour and runs upon request.
Rental Bike, Helmet & Lock
Discount rates for students and groups.
What to wear for the Bike tour : We need comfortable pants for the cycling. Please brink extra t-shirts – socks & a towel. Along with you you can bring a small backpack which will keep your water and all your things during the tour.
In the Tour we provide ;
** A Proper Bike for the Tour
** Helmet & Lock for the Bike
** Guidance Service
** Please Note That, We have our guide that directs your and provides your safety during the tour but every guest is responsible their own safety while cycling in the roads of Istanbul..
Half Day Bike Tour in Istanbul – Bazaar Turkey